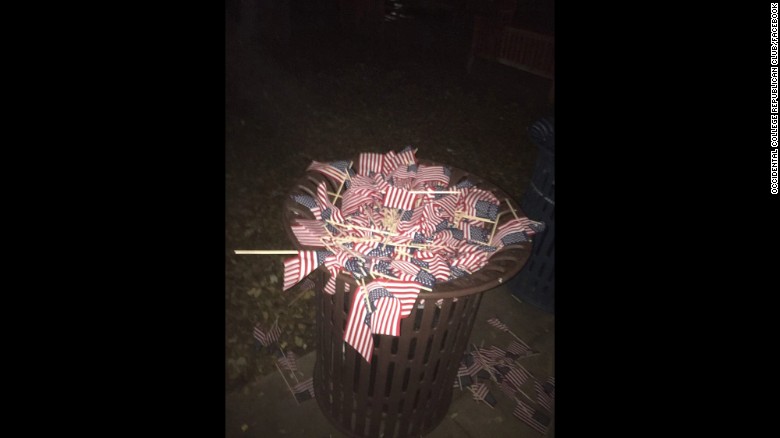 ( Picture of American Flags in The Trash)
link:
http://www.cnn.com/2016/09/12/health/occidental-college-911-vandalism-trnd/index.html
Summary:
This article is about Occidental College looking into the vandalism of a 9/11 memorial on campus after the U.S flags were thrown in the trash. The Republican club from Occidental college planted 2,997 tiny american flags, one for each of the victims from September 11, 2001. Campus police ar
e investing and expect to report any students suspected of committing this crime. News of this event has spread nationally. The students that were initially accused say that the truth of the event has become lost in translation between the media and the stories of the people in the Republican Club. The students that remained anonymous excused there behavior by saying, that they removed the flags in order to, "demonstrate a more holistic approach." The students left fliers on the quad that read, "R.I.P. the 2,996 Americans who died in 9/11. R.I.P. the 1,455,590 innocent Iraqis who died during the U.S. invasion for something they didn't do."
Connection:
This event directly connects to the 9/11 terrorist attack, when Osama bin laden planned an attack on the US. Terrorist high jacked four planes, successfully crashing them into the pentagon, a field and two into the twin towers. This tragic event, is honored nation wide through many different memorials, in order to recognize the many people's lives that were lost on this sad day.
Questions: How would you feel if one of your family members pasted away and someone trashed a memorial in honor of them?
What consequence should the school put in place in order to punish the students responsible?
Do you believe that the students that trashed the school were wrong?