Link:
http://www.bbc.com/news/world-middle-east-37709970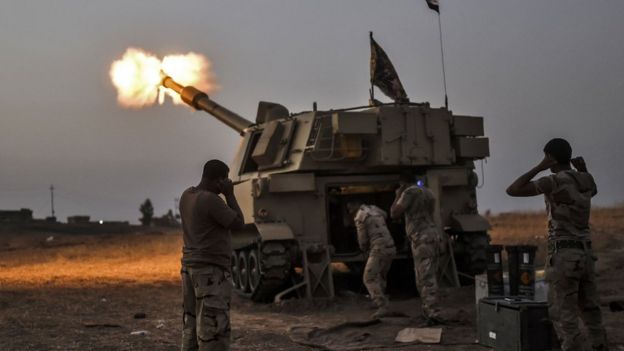 S
ummary:
Mosul is a city in northern Iraq, which in recent years been occupied by Islamic State (IS). According to the US military, the main leaders of the IS have fled from Mosul as a result of Iraqi forces closing in on the city from the south. Approximately 5000 IS fighters are believed to be currently remaining in the city. US General Gary Volesky claims, "

We've seen movement out of Mosul; we've got indications that leaders have left."

He didn't, however, specify who had left the city or the location to where they might've escaped to,

including IS leader Abu Bakr al-Baghdadi. Many devoted IS militants, however, will likely stay in the city and continue fighting to keep control. A
bout 5000 refugees have already escaped the city and are camping over the border of Syria.
Approximately 1.5 million civilians, however, are still trapped in the city. Many people inside reported that the IS forces are preventing them from leaving and that they are lacking resources.
Connection:
This connects to US History because in the past, the US has been committed towards stopping multiple terrorist groups, such as the KKK, even if they were outside of the country. In addition, this an example of a Push Factor that is causing many civilians to become displaced refugees.
Discussion Questions:
Do you believe that the US should continue spending resources towards stopping ISIS? How can the US help the civilians who are still trapped in the city? How can the US help the refugees who have escaped from the city?