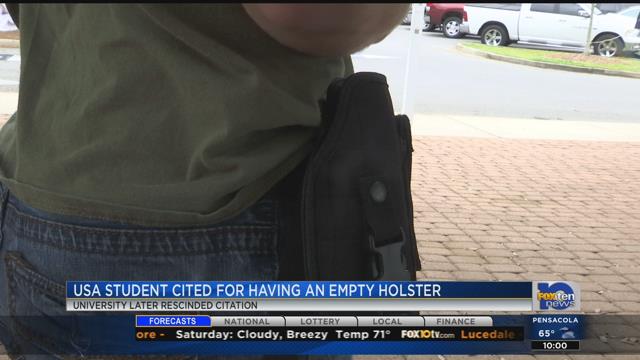 College students around the country are wearing empty holsters, which are used for holding specifically with handguns on their school campuses this week.
The students are protesting against policies that prohibit guns at school.
DJ Parten is one of the students that are wearing the holster on his waist and, "says people notice the empty holsters
and some of the people who are against their cause are giving them weird looks.Then on the opposing side there are some that are actually interested and want to know more about the group," DJ Parten also said. "We actually got someone who wanted to join the group because they saw the empty holster."
They are protesting because the current University of South Alabama policy does not allow students to have guns on campus.
Students have different opinions on whether or not their peers should be able to carry concealed weapons on their school campus. Such as student Ariel Downs who said, "
Yes, I think we should be able to protect ourselves, with assault happening on campus and there's no way really to protect ourselves." Then on the opposing side a student named Zachery Steven who said, "
In my opinion I don't think students should carry on campus. It can be considered threatening to some people."
Since these protest have taken place Josh Crownover who is the student Government Association President, says the policy has been talked about before in SGA meetings. The student government doesn't really have much say in the policy, but they can try to help promote the student's voices.
This issue connect back to the Constitution and the amendments that were added on to the Constitution. This article specifically connects to the Second Amendment which states, A well regulated Militia, being necessary to the security of a free state, the right of the people to keep and bare Arms, shall not be infringed.
If you were a student attending the university would you carry a holster?
How would you feel if your Second Amendment was being infringed on?