Two Brussels police officers stabbed in terror attack, prosecutor says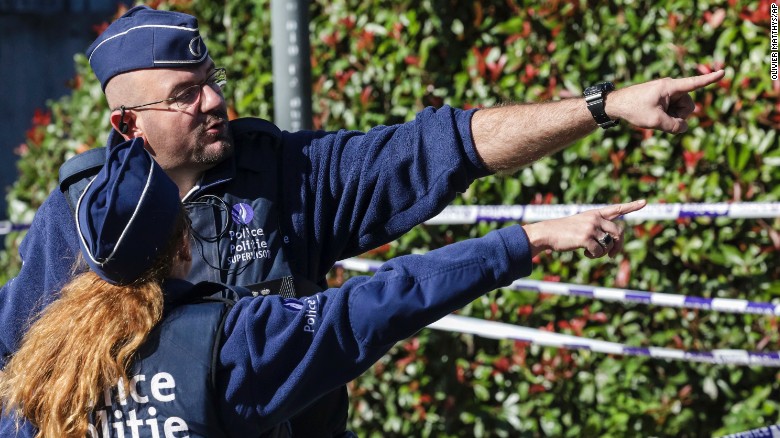 Summary:
A man stabbed two police officers in the Brussels district on Monday, in what appears to have been a terrorist attack. A third police officer overpowered the suspect; identified as Hicham D. Hicham was shot in the leg but his injury was not considered life threatening. A house search was conducted at Hicham's residence on October 5th, 2016. No weapons were found in Belgium's capital city. According to a statement from the prosecutors office, the third officer was "slightly injured." A 17-year-old French high school girl witnessed the attack. The high school student told CNN that,"The suspect pulled out a knife and attacked a police man, and hurt him in the stomach and leg." "The police man then pulled out his pistol and shot the suspect in the leg." Experts have said that Brussels has become a hotbed of terror in Europe. The prosecutor's office said that the offender will face a judge specializing in terrorism case to decide on any detention details.
Connections:
The shootings of the police officers relate to ISIS and terrorism, because Hicham is known to be a terrorist, and he pulled out a knife and attacked an innocent police man for no apparent reason. Essentially, this was a terrorist attack. He suddenly attempted to kill police officers out of rage. Today, terrorism has gotten extremely out of hand. This incident can also relate to the mass shooting that occurred over the summer in Florida. The man who killed all of those innocent people, killed them out of rage also. He didn't have a specific reason for doing it. He also claimed to be a part of ISIS.
Discussion Questions:
What do you think government officials should do in order to try and prevent such horrific things from happening in the world?
What do you think the punishment should look like for someone who commits a crime as serious as this?
Do you think people in Brussels can truly feel safe anymore?
Source: