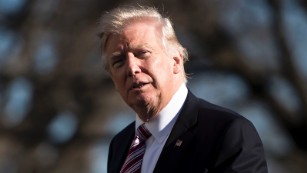 http://www.cnn.com/2017/02/03/politics/border-wall-republicans/index.html?adkey=bn
summary: Donald trump's plan to build the wall has brought up problems within his own party. more and more lawmakers are coming to the conclusion that he is gonna have a hard time getting funded by the congressman. many say that they are gonna be against trump in whatever plan that is fully offset with spending cuts.
"If you're going to spend that kind of money, you're going to have to show me where you're going to get that money," said Alaska Sen. Lisa Murkowski, a key swing vote who has already broken with Trump over his nominee for secretary of education.
connection:
This controversy over building a wall or not and the details of the funding is a very prevalent issue witch impacts our daily life. This also exemplifies how people are already not getting to a good start with trump being our president so it is most likely that he will be ruining peoples lives with every decision he makes.
Question: do you agree with trump in building the wall? do you think this is going to affect the nations image of an accepting race country?