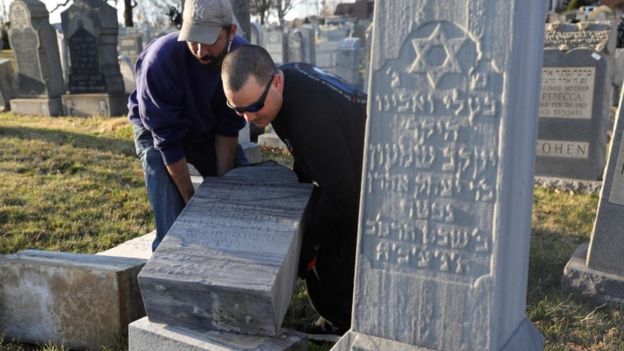 Summary:
The police have not yet found the anti-Semitic vandals responsible for trashing what is said to be about 500 graves in a Jewish graveyard. Less than a week prior, a Jewish cemetery was defaced in St. Louis, Missouri. Additionally, many different Jewish Community Centers (JCC) in Alabama, Delaware, Florida, Indiana, Maryland, Michigan, New Jersey, New York, North Carolina, Pennsylvania, and Virginia received bomb threats on Monday. The FBI is also investigating over 50 bomb threats to different JCCs since January. It was reported that three Christian cemeteries near by in Philadelphia were undamaged. In a Buffalo suburb on Saturday, residents awoke to find much of their neighborhood to be defaced with anti-Semitic words and symbols. The Jewish community is calling to the federal government to take action to respond to the 'disruption and anxiety.'
Connection:
This connects to US History and our study of the Ku Klux Klan's hate crimes toward African Americans. Prior to the Civil Rights Movement, the KKK was very active in their acts of terrorism, murder, and assault; fueled by their hate-based ideology. This white supremacist organization KKK targeted African Americans through lynchings, arson, rape, and bombings.
Questions:
Why do you think the vandals did what they did? And who do you think is responsible?
How would you feel if your family member's grave was defaced? What would you want the vandals punishment to be?
What do you think Donald Trump should do to address this anti-Semitic hate in our country?