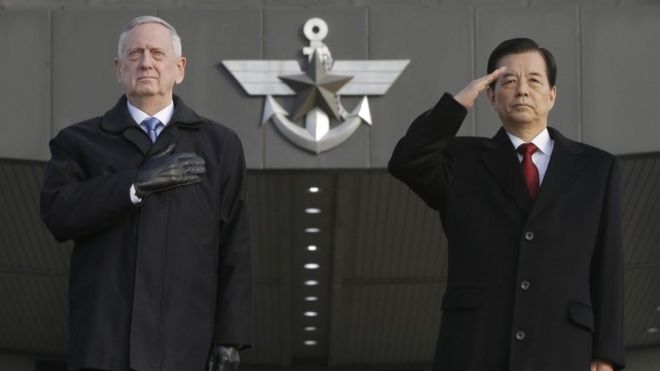 Link:
http://www.bbc.com/news/world-asia-38850995
Summary:
US defense secretary James Mattis stated that if North Korea uses nuclear weapons, there would be an effective and overwhelming response. Mattis reaffirmed US support in South Korea. He also confirmed plans to implement a US missile defense system in South Korea. North Korea had its fifth nuclear weapon test last year, and threatens that they can carry out a nuclear attack on the US, although experts say it is doubtful. China and Russia, however, don't agree with the missile defense system. They claim that it is provocative and may allow the US to spy on their militaries with its radar. Some South Koreans also fear that the bases may become targets and endanger nearby citizens.
Connection:
This is connected what we recently learned about the use of nuclear weapons in WWII. Towards the end of the war, the US had dropped two atomic bombs on Nagasaki and Hiroshima, causing a devastating outcome. Many were burned to death, some were killed by the shrapnel, and others died due to the explosion itself. Not only were many killed, but it also lead to much radioactive contamination in the area. Since then, the US has learned from its tragic effects and have not used the atomic bomb again.
Questions:
Do you believe the US should implement the missile defense system in South Korea? Do you believe it will make the country safer? Or, do you believe it will only provoke the North Koreans to attack even more? Also, do you believe it is the US's responsibility to protect South Korea in this case?