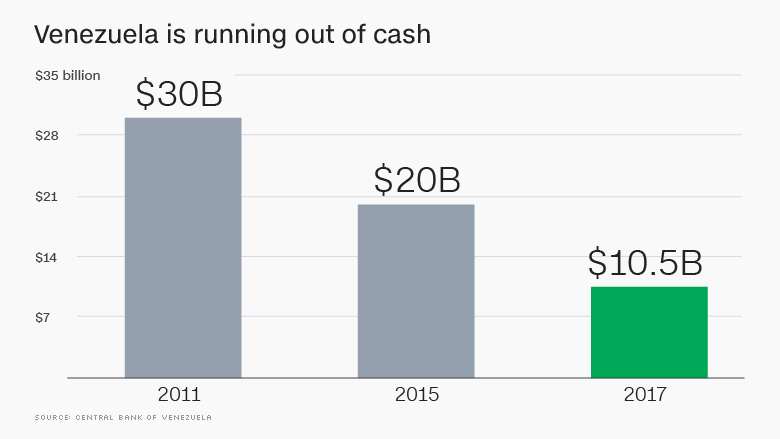 Link: http://money.cnn.com/2017/03/01/news/economy/venezuela-cash/index.html
Summary- The country of Venezuela is slowly running out of money. Currently, they only have $10.5 billion in foreign reserves left. They currently owe around $7.2 billion of that $10 billion in debt payments. In 2011, Venezuela had about $30 billion in reserves, and in 2015, it decreased to $20 billion. Currently, Venezuela relies solely on oil exports for money, however, according to Siobhan Morden, head of Latin America fixed income strategy at Nomura Holdings. " If oil prices stagnate and foreign reserves reach zero, then the clock is going to start on a default." Venezuela does not even have actual cash. According to the country's 2016 financial report, $7.7 billion of its remaining $10.t billion of reserves is in gold. They had to pay Switzerland's debt by shipping gold. Currently, Venezuelans are suffering massive food and medical shortages, due to skyrocketing grocery prices. Some factors that have allowed Venezuela to reach this low include government overspending, a crashing currency, and corruption. Inflation is expected to rise 1,660% and 2,880% in 2018. Low oil prices are making it hard for the country to pay its debts and import food, medicine, and other essentials for its citizens. If Venezuela does not find another way to bring in some national income, they could be in real trouble over the next few years. The example of Venezuela sends a warning to any country that relying on one source as an income will never work and will almost always put your economy in an extremely unstable state.
Connection: This correlates to the default that happened in the United States in 1979. At the time, Congress waited to long to lift the debt ceiling. Eventually, they raised the debt ceiling right before it was too late, however, we were not able to avoid defaulting on about $120 million in debt due to the logistical and technological challenges in the Treasury to send checks out on a short notice.
Discussion:
What other factors might be in play that caused Venezuela to slowly run out of money?
What other incomes roads do you think Venezuela could take?
Why do you think that Venezuela is not asking for any help from bigger countries?